Inspiring Young Minds through Social Value Collaboration
08-11-2023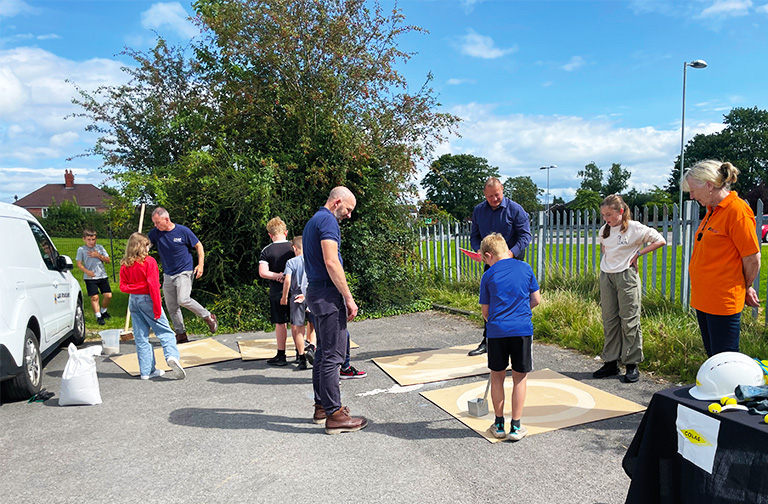 Inspiring Young Minds through Social Value Collaboration
In August, Colas hosted a community workshop at New Images Community Centre for the Winsford Youth & Community Forum, engaging with a group 7–11-year-olds attending summer holiday club in Winsford. In collaboration with local supply chain partners Thermal Road Repairs Limited, and L&R Roadlines, a series of demonstrations and activities were presented with the aim to raise awareness about staying safe on the roads.
Following discussions about road safety and the importance of reflective clothing hosted by the Colas social value team, L&R Roadlines worked with the children to create their own road markings using sand. Additionally, Thermal Road Repairs showcased their eco-friendly processes, and demonstrated the repair of two potholes at the centre, providing a detailed explanation of each stage in the process.
One attendee, Leo, was fascinated by the equipment and processes. Throughout the day, he remained actively engaged in the activities and demonstrations, asking several questions to gain a better understanding of the demonstrations being shown. As the event ended, Leo was awarded a prize for being the most engaged participant of the day.
Last week, in a heart-warming development following the workshop, Thermal Road Repairs held a special visit to their manufacturing facility in Crewe after inviting Leo and his family to the depot for a tour. Leo was given an insight into their business and introduced to a number of members of the team who explained the evolution of their technology, was given the opportunity to initiate some manufacturing commands using computerised programming, and even designed his own sports jacket and jumper with creative partner, WeDisplay.
Gill Carr, Social Value Advisor at Colas said: "It's important that we support the voluntary community with events like the demonstration at New Images Community Centre as they provide an excellent opportunity to raise awareness about careers in the construction industry. Witnessing the positive impact of the demonstrations on the children throughout the day was inspiring, and I'm thrilled to see Leo's newfound passion for the industry following the workshop."