SUSTAINABLE ROAD RECYCLING TECHNIQUE AWARDED GREEN APPLE AWARD
06-10-2023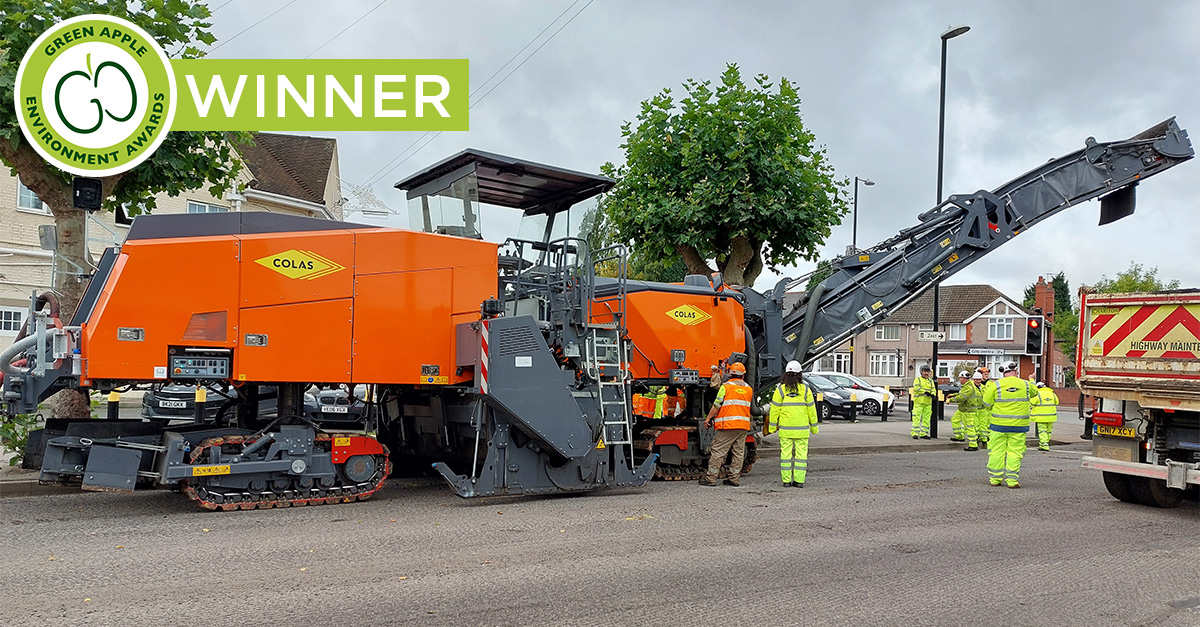 SUSTAINABLE ROAD RECYCLING TECHNIQUE AWARDED GREEN APPLE AWARD
Colas is celebrating after winning an International Green Apple Environment award in recognition of a commitment to the environment using sustainable asphalt recycling technique, Recycol.  
Recycol is an emulsion-based, cold-applied, in-situ recycling process, that recycles 100% of the binder course back into the new road and achieves up to 70% carbon savings over traditional hot mix asphalt.
The team were presented the Green Apple Environment award following the successful demonstration of the Recycol process in Coventry last October. In collaboration with delivery partners, Coventry County Council, Colas used the technique on three residential roads. A total area of 9,500m2 was recycled across the three sites, using the technique through a train of linked resurfacing vehicles which move along the road, mixing the planed surface with emulsion and reapplying to the surface. By using the emulsion-based technique, considerably higher carbon savings were achieved in comparison to traditional solutions.
In the next phase of the project, Colas, in collaboration with Cheshire West and Chester Council, are using the innovative Recycol process to repair a section of the A41.
As a result of the award, Colas has been invited to the presentation ceremony in the Houses of Parliament in November. In addition, Colas is now entitled to represent the UK in the Green World Environment Awards, which are held annually.
The Green Apple Awards are run by The Green Organisation - an international, independent, non-profit, non-political environment group that began in 1994 to recognise, reward and promote environmental best practice around the world.