Mortars
Colas Cubeset
Colas Cubeset is a single pre-mixed cement based non-shrink concrete designed with selected graded silica aggregates and additives.
Make an enquiry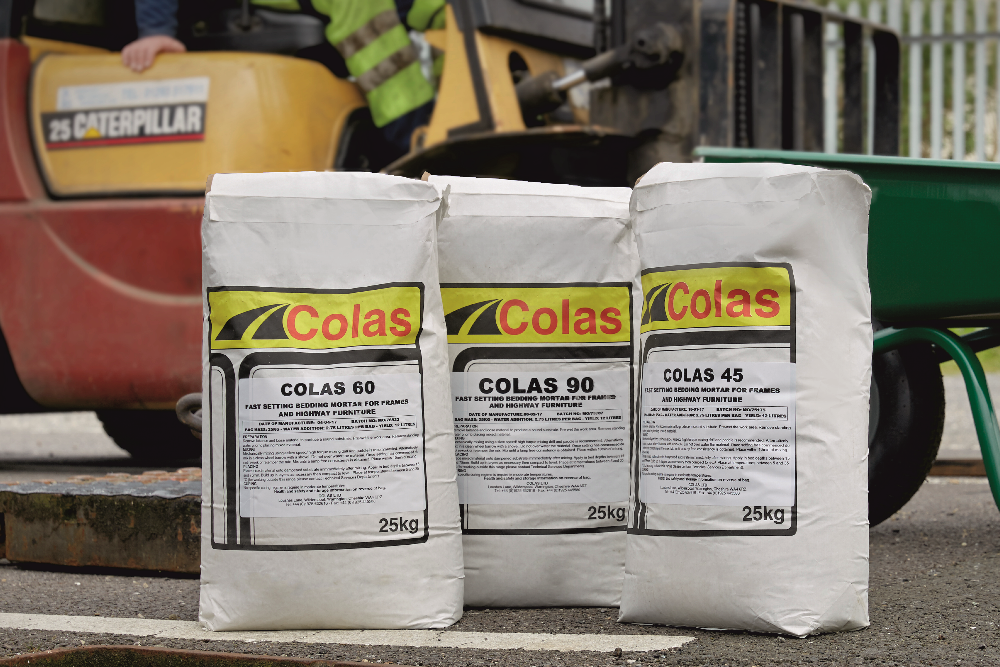 Introduction
The mixed product may be placed in sections of 20mm up to 650mm in a single pour. Colas Cubeset pre-mixed cement based non-shrink concrete is suitable for all concrete works where early strength development is required in order to allow early use of the placed sections. The product may be used for localised repairs plus large area placement or reinstatement of concrete pavements.
The mixed concrete, when placed, will harden in approximately 20 minutes. The compressive strength gain will reach 22N/mm² within 2 hours allowing early opening of sections to foot and vehicular traffic. The self-contained product only needs to be mixed with water on site. The product is chloride free and can be safely used in contact with steel reinforcement. After placement, no special curing is required in moderate ambient conditions. In rapid drying conditions, expected rain or frost protection should be applied.
Where to use?
Concrete restoration – recasting with concrete or mortar.
Structural strengthening – adding mortar or concrete.
Increasing physical resistance – adding mortar or concrete.
Resistance to chemicals – adding mortar or concrete.
Preserving or restoring passivity – increasing cover with additional mortar or concrete.
Preserving or restoring passivity – replacing contaminated or carbonated concrete.
Other uses include:
Concrete repairs to accept foot and vehicular traffic.
Forming of new pavement areas.
Re-instatement of deteriorated pavement areas.
Rapid repairs to roadways & Structural support situations.
Preparation
Laitance and all loose material including dust,  oil and grease should be removed in order to produce a sound substrate. The work area should be pre-wetted taking care to remove any standing water before placing the Colas Cubeset. To achieve the most consistent concrete mix, mechanical mixing using a forced action mixer such as the Creteangle is recommended. Small mixes may be made using a heavy duty slow speed high torque drill and Mortar Stirrer. Each 25kg bag of Colas Cubeset requires 2.25 litres of water to give a medium workability concrete consistency. Excess water should not be added. Once setting of the concrete has commenced, further mixing should not be used to re-work the mix. The concrete should be placed within approximately 15 minutes of mixing. The working time may be extended in cold ambient conditions and may be slightly shortened in hot ambient conditions. For cold weather working warm mixing water at up to 30°C may be used.
Part bag mixing should not be undertaken.
Application
Mixed Colas Cubeset should be placed onto the dampened prepared surface as soon as mixing is complete. Once placed fully compact the concrete to obtain maximum strength development. The bed thickness applied in a single application should be between 20mm to 650mm. The placed concrete will have hardened sufficiently to carry out further work within 20 minutes depending on the surrounding ambient conditions.
Curing: No special curing is required at temperatures between 5°C and 35°C.
For placing at temperatures outside this range, contact our National Sales Office on 01925 632616.
At early stages do not allow placed concrete to rapidly dry and protect from rain and frost.
Coverage
The volume yield of each 25kg bag of Colas Cubeset is approximately 11.5 litres.
Packaging
Colas Cubeset is supplied in 25kg sack bags (50 x 25kg per pallet).
Storage
Colas Cubeset non-shrink concrete will have a shelf life of 6 months when kept in dry conditions at a temperature of 5°C to 35°C. Storage at higher temperatures or high humidity may reduce the shelf life.
Standards
Colas Cubeset has been tested in accordance with appropriate parts of EN12390, EN13412. Colas Cubeset meets the requirements of the Highways England Specification for Highway Works Series 1700 for Structural Concrete.
Performance
Typical Mortar Properties @ 20ºC
Compressive Strength
2hrs
20MPa
1 day
35MPa
7 days
45MPa
28 days
65MPa
Density
2200 – 2300kg/m³
Approx. Working Life @ 20ºC
15 mins
Elastic Modulas in compression
41.2GPa @ 28 days
Bond Strength via pull off test
2.4MPa @ 28 days
CI content
<0.003%
Safety
For full safety information, please request the Colas Cubeset Safety Data Sheet 122 using the contact information on this webpage.