Mortars
Colas Resin 5
Colas Resin 5 is a polyester resin based material used for grouting where rapid early strength development is required.
Make an enquiry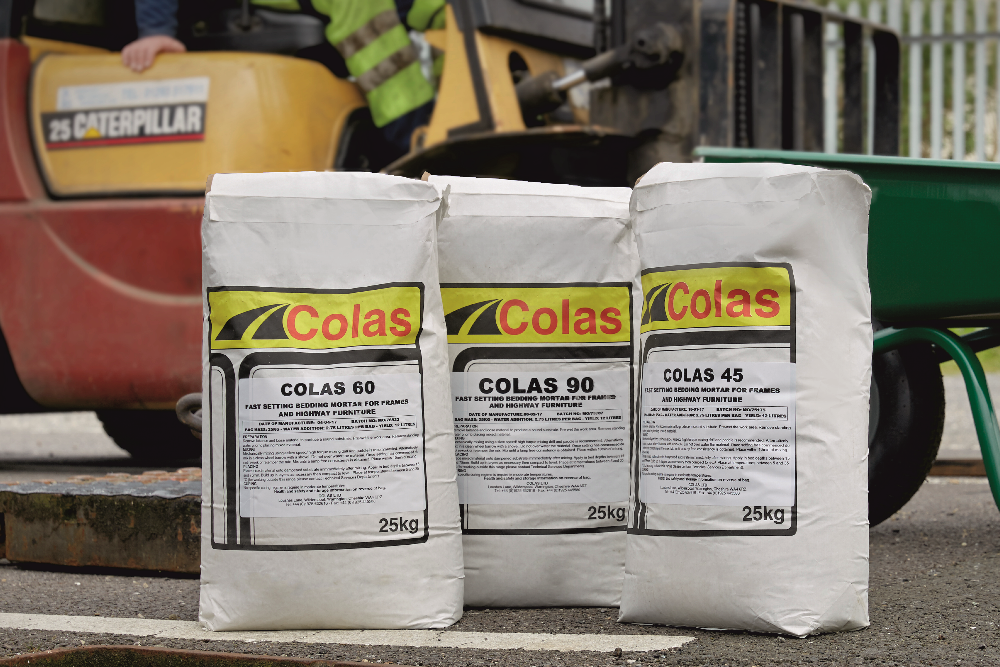 Introduction
Uses include all types of support for steel and concrete units examples of which would include grout feeder boxes for steel plate supports, beneath all types of frames in vehicular road surfaces during bedding and levelling operations. The product is supplied as a two pack system ready for onsite mixing consisting of two tins of base resin and two bags of catalysed filler.
The mixed grout will harden to give rapid strength gain reaching 60N/mm² in 1 hour allowing road opening to vehicular traffic within ¾ to 1 hour. The placed frames will resist compressive and high impact loads. The chemical mechanism will continue at temperatures down to 0°C with only a small increase in hardening time. The hardened grout is resistant to chemical attack from petroleum products and road salt.
Where to use?
Filling of grout feeder boxes in steel support placement.
Re-bedding of raised manholes.
Support of road furniture.
Bedding of frames in new roads.
The most rapid opening of newly placed frames and road furniture.
Preparation
Laitance and all loose material including dust, oil and grease should be removed in order to produce a sound substrate.
Any loose brickwork should be re-bedded using a slightly resin rich Colas Resin 4 mix.
Application
To achieve the most consistent grout mix, mechanical mixing is recommended. Hand mixing is suitable for small mixes but care should be taken to ensure that the mix is fully wetted out with resin. Mixing may be carried out in the plastic package pail or a similar suitable mixing vessel. Suitable mixers include a slow speed high torque drill and Grout Stirrer. For full pack mixing of Colas Resin 5 pour all of the resin contained in the two tins within the pack into the mixing pail. Slowly add the catalysed filler while continually mixing.
Continue mixing after all the catalysed filler has been added until the mix is powder free and uniform. The chemical reaction of setting is rapid. The mixed grout should be placed immediately after mixing. The working time may be extended in cold ambient conditions and may be shortened in hot ambient conditions.
Grout Feeder Boxes
Mixed Colas Resin 5 should be poured into grout feeder boxes allowing the gap between lower steel plates to be completely filled with Colas Resin 5. Colas Resin 5 should be brought up to a level within the box such that any small degree of volume change will be accommodated by further ingress of the grout.
Frame Setting Using Colas Resin 4
For bedding and levelling using Colas Resin 4 set suitable levelling shims onto the working surface ready to receive the frame or unit. Place the mixed mortar onto the prepared surface and lower the frame or unit onto the mortar and knock down onto the pre-set shims to line and level. The bed thickness applied in a single application should be between 10mm to 50mm.
Thicker support beds can be achieved by applying further material as soon as the lower bed has hardened sufficiently not to distort under the additional work. The placed mortar will have hardened sufficiently to carry out further work within some 20 to 30 minutes depending on the surrounding ambient conditions.
Frame Setting Using Colas Resin 5
Unfilled areas beneath and surrounding the frame or unit may now be filled by pouring Colas Resin 5 into place. The placed mortar will act as a restraining formwork during the grouting operation. The combination of the Colas Resin 4 plus the Colas Resin 5 will ensure complete support for the frame or unit. Clean tools with Solvent before Colas Resin 5 has started to harden.
Curing: No special curing is required at temperatures between 5°C and 35°C.
For placing temperatures outside this range contact National Sales Office on 01925 632616.
Coverage
The volume yield of each 25kg pack of Colas Resin 5 is approximately 12.5 litres of mixed grout.
Storage
Colas Resin 5 will have a shelf life of 6 months when kept in dry conditions at a temperature of 5°C to 25°C. Storage at higher temperatures or high humidity may reduce the shelf life.
Packaging
Colas Resin 5 is supplied in 25kg packs (24 x 25kg per pallet).
Standards
Colas Resin 5 complies with Highways England Advise Note 104/09 has been tested in accordance with the relevant parts of BS 6319, HA104/09.
Typical Grout Properties @ 20°C. Working Time @ 20°C is 10 – 20 minutes (above 20°C setting will be faster).
Typical Mortar Properties @ 20ºC
Compressive Strength
60mins
60MPa
120mins
70MPa
1 day
85MPa
Compressive

 

Modulas
15GPa
Particle Size
0 – 2.0mm
Density
2050 – 2100kg/m³
Approx. Working Life @ 20ºC
10 – 20 mins
Flexural Strength
60mins
15MPa
120mins
20MPa
1 day
20MPa

Tensile Strength @ 2hrs

7.5MPa
Safety
For full safety information, please request the Colas Resin 5 Safety Data Sheet 125 & 126 using the contact information on this webpage.