Bond Coats
Colbond Multi
Colbond Multi is a polymer modified cationic bitumen emulsion designed to be applied both as a bond coat and vertical joint paint.
Make an enquiry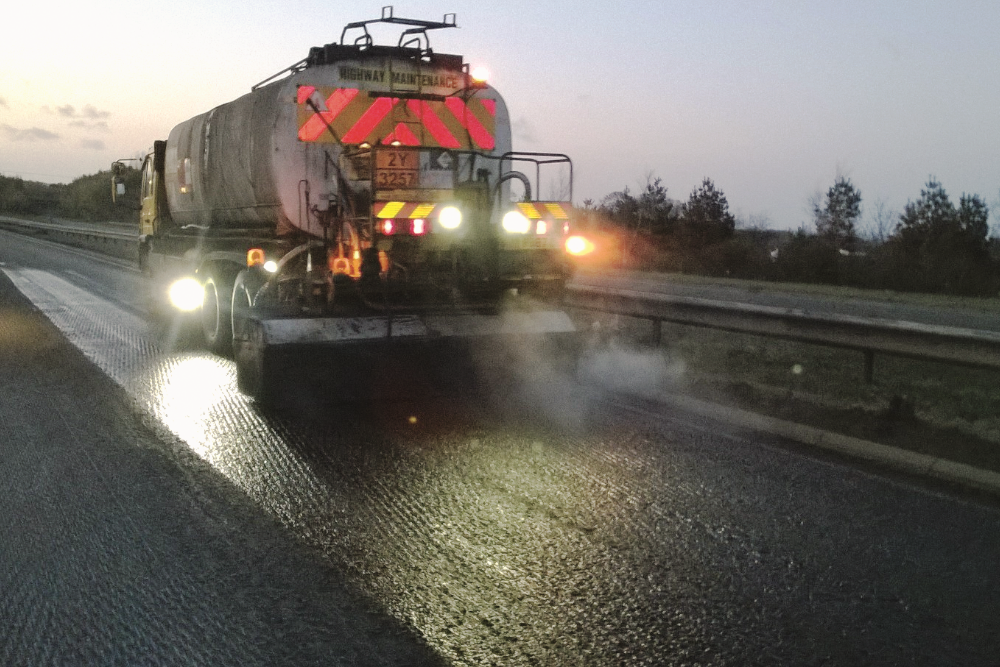 Introduction
Colbond Multi forms a uniform film of polymer modified bitumen on both horizontal and vertical faces forming a strong adhesive bond between bituminous overlay and the existing surface. In addition, the application of Colbond Multi also improves the waterproofing of the road pavement. Colbond Multi, when fully broken, prevents 'pick-up' on the wheels, tracks or tyres of the paver/delivery vehicles and prevents disbanding/debonding of the overlay during subsequent service life when subjected to traffic stresses.
Applied to vertical edges Colbond Multi replaces conventional hot pour bitumen.
Where to use?
Carriageways
Footways
Car parks
Preparation
Surface to be treated must be free from detritus, standing water, loose materials and oil spillage.
Application
Prior to application Colbond Multi should be circulated thoroughly.
Colbond Multi should be applied at 0.52L/m2 to achieve the recommended 0.35kg/m2 residual spread rate stated in BS594987 Clause 5.5 application of bond coats and 6.8 Joints. Vehicular traffic should be kept off the treated area until the emulsion has fully broken, colour changes from brown to black, then the overlay should be applied. It is recommended that Colbond Multi is applied when the ground temperature is 5°C and rising or <40°C.
Humidity should preferably not exceed 70%, however, Colbond Multi can be applied in higher humidity but this will prolong the break time.
Colbond Multi should be applied at 85°C using a mechanical spray tanker calibrated to BS1707 (Hot binder distributors for road surface dressing).
Coverage
It is recommended that the Colbond Multi is applied at coverage rates specified in BS594987 Clause 5.5 Application of bond coats and 6.8 Joints.
Further guidance is available by contacting our National Sales Office on 01925 632616.
Packaging
Colbond Multi is available in bulk loads.
Storage
Protect from frost. Bulk material should be circulated before use. For further information please refer to BS434-2 2006 clause 5.2 storage.
Standards
Colbond Multi is a CE Marked cationic emulsion to BS EN13808:2013 C65BP4 or C67BP4.
Property
Test Method
Performance Class
Emulsion binder content
EN1428

Class 8 (65-69%) or Class 8 (67-71%)

Emulsion viscosity
EN12846- 1
Class 3 (15-70s)
Breaking value
EN13075- 1

Class 5

(> 170)
Recovered binder minimum Peak Vialit Cohesion
EN13588
Class 4 (>1.0J/cm²)
Safety
For full safety information, please download the Colbond Multi Safety Data Sheet 11 in the link available below on this page.
CE Marking Information C33 Colbond Multi and Declaration of Performance C33 Colbond Multi documents are also available to download on this page.
For further information please contact us using the contact details provided on the page.