Ancillary
Leoclean Standard
Leoclean Standard is ideal as a heavy duty cleaner for removing mineral oil based marks such as bitumen, asphalt, grease and carbon. It will remove waxes, adhesives, uncured paint and varnish, and also oil based inks.
Make an enquiry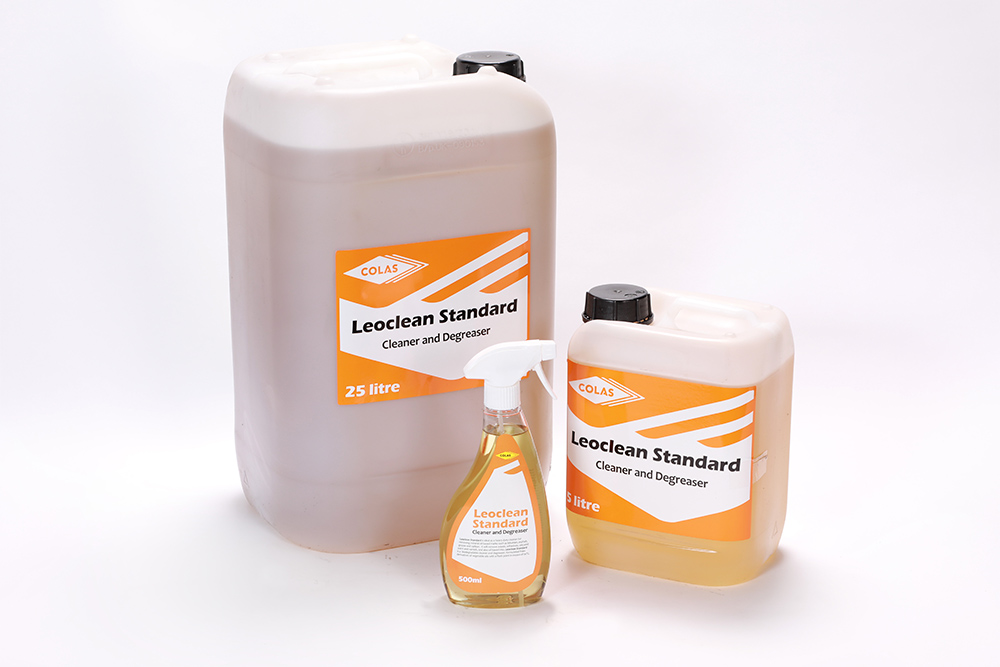 Introduction
Leoclean Standard is a cleaner and degreaser, formulated from derivatives of vegetable oils with a flash point in excess of 90°C.
Leoclean Standard can replace red diesel as well as chlorinated and paraffin based solvents in most applications, thus offering a safer alternative for effective cleaning and degreasing.
Where to use?
Leoclean Standard will help clean up creosote, chewing gum, sealants and other mastics. It is ideal for cleaning oil spills off hard surfaces, cleaning combustion engines, parts washing, tank cleaning and adhesive residue removal.
Leoclean Standard is suitable for most surfaces. It is completely safe on all metals, ceramics, concrete, brick, stone, glass, wood and painted surfaces. It will not affect any cured resins and is safe on most fabrics. However, care should be taken when using on silk, leather and some plastics, acrylics and rubbers. Vulcanised rubber is unaffected. On porous surfaces Leoclean Standard will tend to allow absorption of the contaminant into the surface.
Application
Apply Leoclean Standard sparingly onto affected area, and allow it to soak into the contaminant. The softened or dissolved residue should then be removed with absorbent material. Repeat the process if necessary. Remove softened residue off porous surfaces as soon as possible to reduce absorption and wash with soapy water. Where production processes require speed, drying can be enhanced by heat and/or hot air (but not naked flames) and/or vacuum. Leoclean Standard should be washed from the skin using soap and water.
Coverage
The concentrated nature of Leoclean Standard means that it should be used sparingly.
Packaging
Leoclean Standard is available in 500ml trigger bottles, 5 litre and 25 litre plastic containers and, on request, 200kg drums.
Storage
Store in original container wherever possible. Protect from direct sunlight. Do not spray on naked flame or any incandescent material.
Keep out of reach of children.
Standards
Leoclean Standard is manufactured on a purpose-built plant to an ISO 9001 quality system which covers all Colas manufactured products.
Safety
For Full Safety Information, please request the Leoclean Standard/Industrial Safety Data Sheet 75 using the contact information at the back of this brochure.