Reinstatements
RS Bitukold
RS Bitukold is a rapid setting, cold applied thixotropic bitumen emulsion designed for sealing vertical joints.
Make an enquiry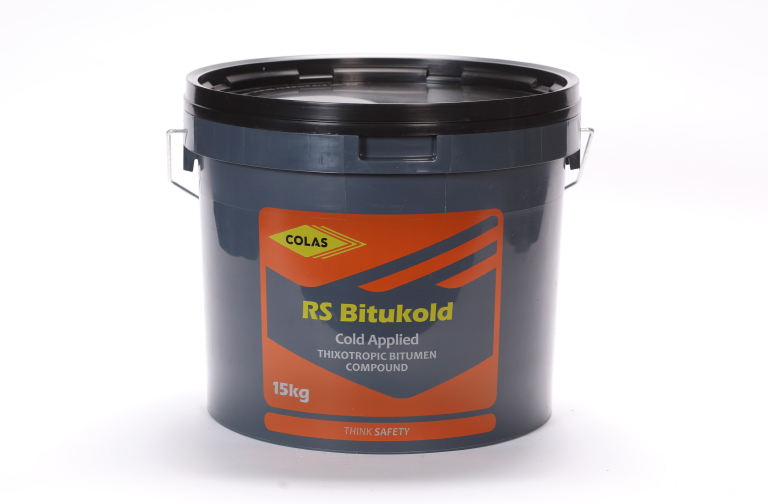 Introduction
The cationic formulation of RS Bitukold ensures a rapid set even in cold, damp conditions, with an initial cure taking place within 15 minutes. RS Bitukold is mainly used for the protection of new joints in freshly laid asphalt or macadam.
Where to use?
Transverse and longitudinal vertical joints
Horizontal cracks in asphaltic roads
Trench reinstatements
Patch repairs
Drain or manhole frames
Kerb channels
Preparation
RS Bitukold should not be applied in ambient temperatures of less than 5°C. Ensure surface is clean and free from loose material, oil, grease, standing water and weeds.
Application
RS Bitukold can be applied by pouring from a spouted watering can or, alternatively, spray applied through the Roadmaster Sprayer.
Coverage
RS Bitukold should be applied at a rate of 0.7 – 1.5kg/m² depending upon the texture and porosity of the surface and the application method.
For joints 50mm deep, a 15kg bucket covers approximately 200 linear metres. Saw cutting the edge of the joint will maximise the rate of spread.
Packaging
RS Bitukold is available in re-sealable 15kg black lidded buckets (36 x 15kg per pallet) or cardboard boxes containing 60 x 10kg bags.
Storage
Protect from frost or extremes of heat. RS Bitukold has storage life of up to six months in sealed buckets under good storage conditions.
Standards
RS Bitukold is a CE Marked cationic emulsion to BS EN13808:2013 C60B3/4 or C65B3/4.
RS Bitukold also complies with BS 594987: Clause 6.8 Joints, vertical face coating, and is suitable for jointing as required in clause 903.2 (iii) of the Specification of Highway Works.
Safety
For full safety information, please download the RS Bitukold Safety Data Sheet 93 in the link available below on this page.
CE Marking Information C27 RS Bitukold and Declaration of Performance C27 RS Bitukold documents are also available to download on this page.
For further information please contact us using the contact details provided on the page.