Footway Surface Treatment
Leocatic Spray
Leocatic Spray is a 60% Bitumen content, cold applied cationic emulsion ideal for surface dressing lightly trafficked areas.  Leocatic Spray is particularly useful for the construction and maintenance of footways.
Make an enquiry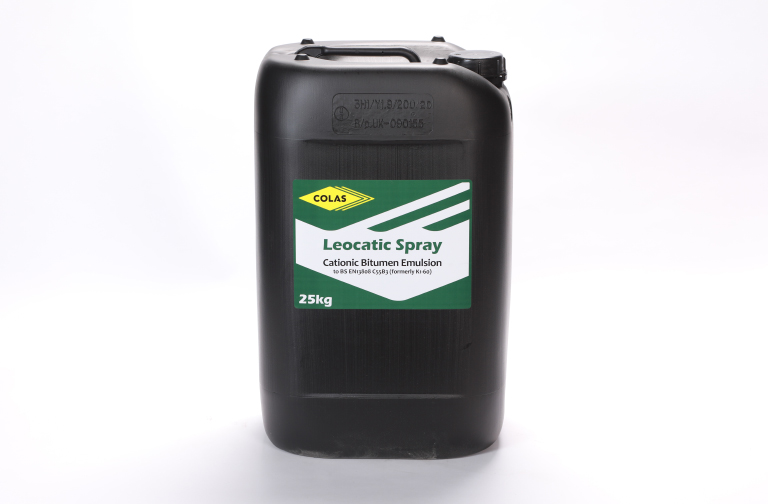 Where to use?
Surface dressing
Stabilising footpaths
Patching
Tack coat
Preparation
Varies depending on the application.
Application
SURFACE DRESSING:
Leocatic Spray is ideal for surface dressing lightly trafficked sites such as footways. Depending on site conditions it may be necessary to apply a double surface dressing wherein two binder and chipping applications are carried out in quick succession. Typical rates of the application when 6mm chippings are used (as a guide only).
Double Dressing: 1st application – 0.9 - 1.4 l/m² 2nd application – 0.9 - 1.4 l/m²
For design guidelines refer to Road Note 39.
STABILISING FOOTPATHS:
On sites subject to low stress it may be economical to prepare, in situ, a combined binder/surface course by means of an application of Leocatic Spray into the interstices of the aggregate after the latter has been spread on the foundation and compacted. Leocatic Spray is particularly effective where the stone layer is open or wet. For full specification please contact your local Colas office.
PATCHING:
When repairing potholes and deep depressions, the area to be treated should first be cleaned of all loose material and cut out to a regular shape with all the sides vertical or slightly undercut. The bottom and sides of the hole or depression should be thoroughly coated with emulsion.
Clean aggregate should be placed in the hole to a thickness slightly greater than its depth and well rammed or rolled. The minimum amount of emulsion required to coat the stones should then be poured on (excessive amounts of the emulsion may create 'fat' spots in the road). The patch should then be covered with clean 10mm or 6mm chippings and again rolled or rammed.
BOND COAT:
Where coated macadams or asphalts are employed, a bond/tack coat of Leocatic Spray can be used (and may be specified) between layers to provide an adhesive and dust free surface.
Typical emulsion rates of application: 0.3 - 0.5 l/m².
BASE TREATMENT:
A freshly cut or placed formation and/or freshly laid sub-base can be sealed with Leocatic Spray in order to preserve moisture equilibrium and so retain volume and strength.
Typical emulsion rates of application: 0.9 - 1.4 l/m².
REMEDIAL TREATMENT:
Where the shape of the surface to be healed is satisfactory but a surface is slippery or in danger of imminent break-up, surface dressing with Leocatic Spray may be employed as a remedial treatment to seal the surface and/or restore surface texture.
Approximate rates of the application when 6mm chippings are used: 1.1 - 1.5 l/m².
Coverage
Please see above the various applications for guidance.
Packaging
Leocatic Spray is available in bulk, 200kg drums and 25kg containers.
Storage
Protect from frost.
200kg and 25kg units should be rolled frequently to avoid separation. Bulk material should be regularly circulated.
For further information please refer to BS434-2: 2006: Clause 5.2 storage.
Standards
Leocatic Spray is a CE Marked cationic emulsion to BS EN13808:2013 C55B3.
Leocatic Spray also complies with the withdrawn BS434-1 Standard as a K1-60 Type emulsion.
Safety
For full safety information, please download the Leocatic Spray Safety Data Sheet 23LS in the link available below on this page.
CE Marking Information C14 Leocatic Spray and Declaration of Performance C14 Leocatic Spray documents are also available to download on this page.
For further information please contact us using the contact details provided on the page.